Titolo: FROM THE HORDE TO THE BEE
Autore: Marco Fusinato ( http://marcofusinato.com/art/from-the-horde-to-the-bee/ )
Formato cm 21 x 29 Numero di pagine 496 (contenente una selezione dei materiali dell'Archivio Primo Moroni riprodotte in scala 1:1).
Prezzo euro 10,00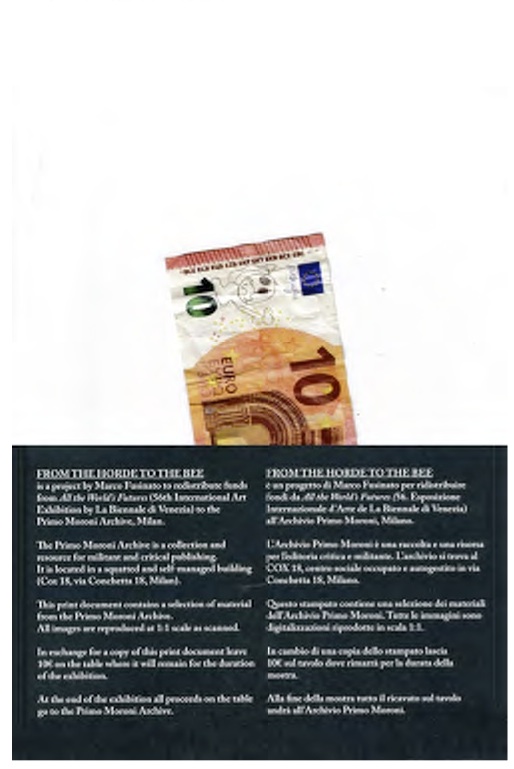 From The Horde To The Bee è un progetto di Marco Fusinato concepito per ridistribuire fondi dalla 56° Esposizione Internazionale d'Arte de La Biennale di Venezia ("All the World's Futures" 2015) all'Archivio Primo Moroni di Milano.
Questo stampato di 496 pagine è stato esposto su un grande tavolo quadrato accompagnato da una scheda che invitava il visitatore a prenderne una copia lasciando 10 euro, "che sono rimasti sul tavolo per tutta la durata della mostra". "Il mucchio di banconote" (la cui crescita è stata monitorata da una videocamera andando a costituire un ulteriore pezzo dell'Opera) diventa opera a sé.
Un'iniziativa che è una lezione di solidarietà da non trascurare, il contenuto del volume può essere estraneo a quelli che non hanno vissuto dal di dentro gli anni 70, ma unito all'evento di cui è stato protagonista e raggiungendo l'obiettivo che Marco Fusinato si era posto (superando gli ostacoli burocrati- ci/amministrativi che gli si sono presentati) diventa opera per tutti.
https://www.facebook.com/From-the-Horde-to-the-Bee-916233085089248/?fref=pb&hc_location=profile_browser