VENERDÌ 27 APRILE 2012
dalle 23.00
Cox18 presenta:
OBAKE live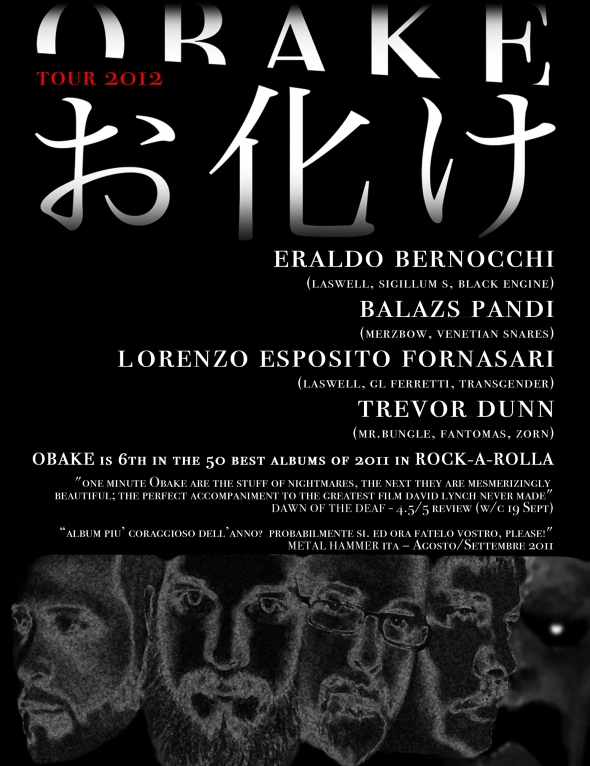 OBAKE is a word which refers to a class of Yokai, Japanese preternatural creatures, and whose strict translation is "A Thing That Changes" or "Shapeshifter" but is often also loosely taken to mean "Ghost" or "Ghost of a deceased human being". It is also the name of the band formed by experimental guitarist and producer Eraldo Bernocchi, opera, experimental singer Lorenzo Esposito Fornasari, Hungarian drummer Balazs Pandi and Zu bass-player Massimo Pupillo.
On the upcoming tour in April/May 2012 Trevor Dunn (known from legendary bands as Mr.Bungle, Fantomas, Tomahawk, Melvins etc) will replace Pupillo on bass.
Obake represents the meeting point of four impressive strands of musicianship and four remarkable careers spanning very diverse genres of music, careers which include performances alongside a variety of renowned musicians such as Mike Patton, Justin Broadrick, Bill Laswell and Merzbow. Obake absorbs all of these influences into a cohesive and wildly powerful new whole and the result is one almighty debut which is coming out on Rare Noise Records in September.
Also the name of their self-titled debut, Obake is the place where the energies of Doom and Drone Metal fuse with ambient electronica, noise, the exactness of math-rock, the groove of blues undercurrents harking back to the dawn of hard-rock and the fluid lyrical delivery and musings of a commanding operatic voice. Obake build on the foundations of these different genres and creatively meld them with expert precision, the amalgam of musical elements come together most aptly on the tracks 'Human Genome Project' and 'The Omega Point', both of which can be sampled on the Rare Noise Jukebox
http://www.rarenoiserecords.com/jukebox/obake/obake/
Imposing in its darkness, encompassing in its beauty and always powerful, Obake is a captivating listen from start to end and a highly impressive debut. A record that will surely appeal to fans of Sunn 0))), Popul Vuh, Ashra Tempel as much as Slayer, Melvins and Coil.