DOMENICA 29 MAGGIO 2022
ORE 16,00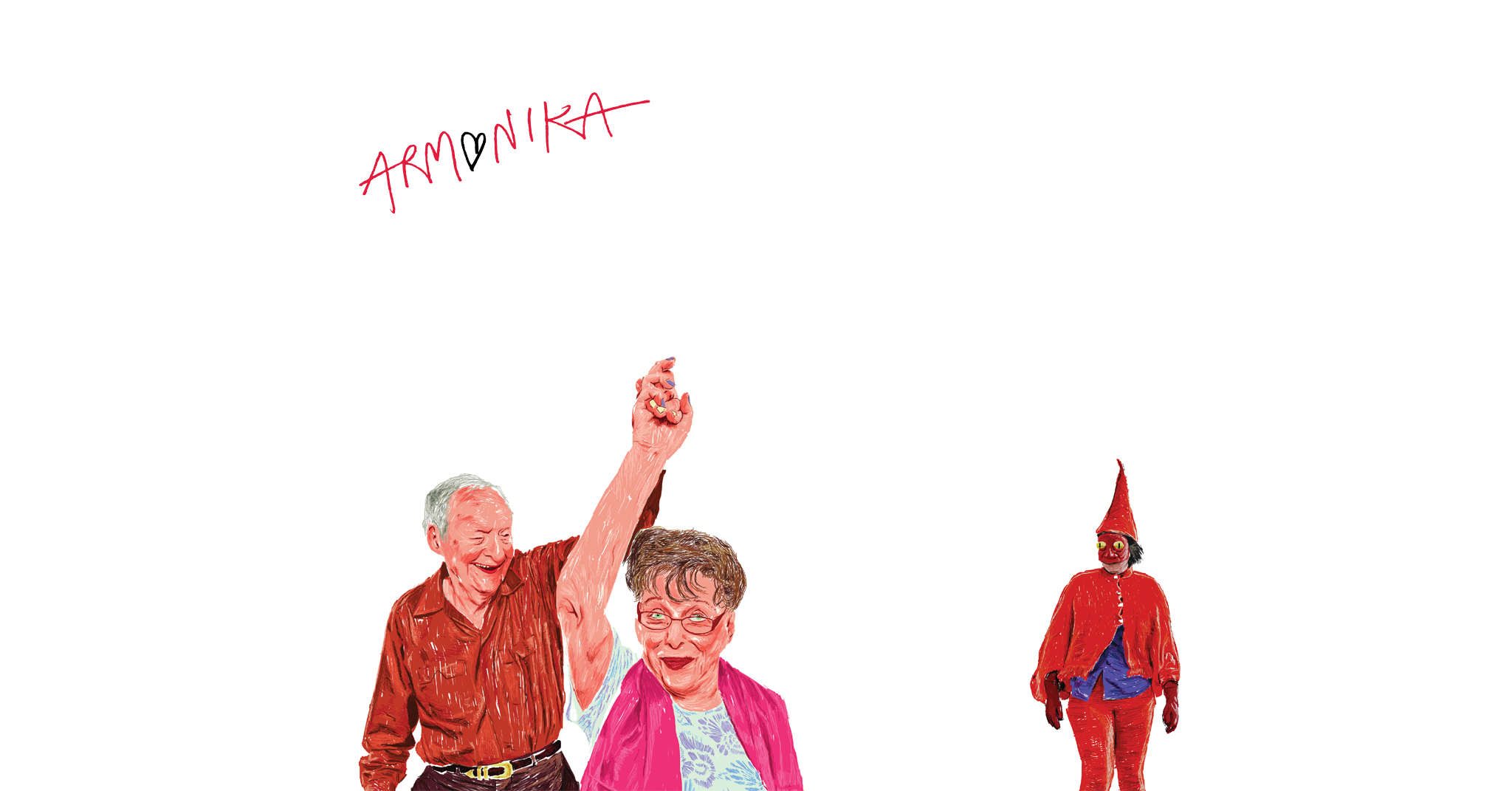 𝑨𝒓𝒎𝒐𝒏𝒊𝒌𝒂
DJ party, ambiente mistico, varietà performativo e riempi-pancia della domenica.
Armonika è un ambiente per stare insieme, ascoltare storie tra i paralumi o seguire il groove sul dancefloor.
Nel suo quarto episodio, dalle ore 16 live, DJ set, performance & cena:
✻ 𝑯𝒆𝒂𝒓𝒕 𝑶𝒇 𝑺𝒏𝒂𝒌𝒆 LIVE
è un rituale essoterico ideato da Vincenzo Marando (Vernon Selavy, Movie Star Junkies, Krano) in combutta con Alberto Danzi e Cosimo Rosa, pubblicato nel 2018 dalla Maple Death Records e portato in diversi contesti e festival come Handmade, Here I Stay, Holidays, Muviments con collaborazioni in studio e dal vivo con Julie Normal, Maria Violenza, Dario Bruna, Foxhound, Vittorio Demarin (Father Murphy), Michele Guglielmi (Jooklo XXL)
https://mapledeathrecords.bandcamp.com/album/s-t-2
✻ 𝑩𝒍𝒂𝒅𝒆𝒃𝒍𝒂𝒏𝒄 DJ SET
Bladeblanc is a Milan-based producer, DJ, and multimedia artist who works in the field of digital art with her project Ultracare. She already appeared on influential labels such as Heel.Zone and Eco-Futurism Corporation with her mixture of bass music and post-club which she skillfully collapses in mutant sound chimeras often turning to the darkest side of the spectrum. Mainly inspired by the UK underground scene, she commits to the dancefloor by combining bass and Jungle with grime-ish sounds, a pinch of post-internet exploration, and sharp drumline patterns.
https://soundcloud.com/bladeblanc
✻ 𝑺𝒆𝒓𝒑𝒊𝒄𝒂 𝑵𝒂𝒓𝒐 MASCHERE
Serpica Naro organizza laboratori, iniziative e fa ricerca sociale in particolare intorno ai concetti di proprietà intellettuale, soggettività nelle industrie creative, lavoro e precarietà nella moda.
https://www.serpicanaro.com/
✻ 𝑹𝒂𝒃𝒊𝒊 𝑩𝒓𝒂𝒉𝒊𝒎 LIVE IMPROV
Fondatore della compagnia Corps Citoyen, Milano Mediterranea e nuovo membro di Addict Ameba. Spirito poliedrico e ben vestito.
https://milanomediterranea.art/
✻ 𝑬𝒍𝒍𝒂𝒉 𝑩𝒐𝒖𝒏𝒄𝒆 LIVE VOCALS
Tra vari esperimenti artistici in ambito musicale, letterario e teatrale, e l'ideazione di workshop terapeutici e/o espressivi con materiali visivi, realizza performance vocali dove intuizioni, pensieri, fantasie, si adattano a sonorità elettroniche.
✻ 𝑳𝒆𝒔𝒕𝒆𝒓 𝑴𝒂𝒏𝒏 DJ SET
Seleziona musica d'ascolto di impronta dub, stranezze disco, psichedelia e ritmi per danze rallentate, da diversi anni organizza concerti e feste nel sottobosco milanese. In duo, con il nome di Lester Laura, è stato resident per le serate Wan Va in Cox18, Nessuno (Nobodys Indiscipline Party) e ha curato una serie di podcast per Radio Quartiere durante il primo lockdown del 2020.
https://www.mixcloud.com/lester_mann/
✻ 𝑴𝒂𝒕𝒕𝒊𝒂 𝑫𝒂𝒎𝒃𝒓𝒐𝒔𝒊𝒐 DJ SET
Cuore pulsante della surf band Wave Electric, guitar hero e animale notturno, seleziona beat caldi, dubby techno e disco hit.
https://instagram.com/mattdambrosio87
✻ 𝑭𝒓𝒆𝒅𝒅𝒚 𝑨𝒎𝒐𝒓𝒖𝒔𝒐 LIVE ARMONICA
Bending sfrenati di armonica, improvvisa sul groove dei dischi suonati durante la festa.
✻ 𝑭𝒆𝒅𝒆𝒓𝒊𝒄𝒂 𝑨𝒎𝒐𝒓𝒖𝒔𝒐 VOCALIST
Fondatrice della rivista Tutto Oggi, vocalist occasionale, ci aggiornerà sulle previsioni metereologiche dei prossimi giorni.
https://instagram.com/vere.cundia
✻ 𝑴𝒂𝒓𝒌𝒐 𝑩𝒖𝒌𝒂𝒒𝒆𝒋𝒂 ???
Ci sara davvero?
— in orario aperitivo —
✻ 𝑮𝒓𝒂𝒏𝒅𝒎𝒂𝒔𝒕𝒆𝒓 𝑳𝒆𝒍𝒆 Cibo & Cuore
— + special thanks to —
✻ 𝑺𝒂𝒍𝒊 Moment Catcher
✻ 𝑳𝒂 𝑺𝒊𝒎𝒐 General Manager
✻ 𝑳𝒊𝒍𝒍𝒚 𝑮𝒓𝒖𝒎𝒐 Spirito Guida