SABATO 8 MAGGIO 2010

Dale 23.00
Concerto con:

– Kalweit and the Spokes

– Ocean Drive

Ascolta l'intervista prima del concerto:

– Kalweit and the Spokes

– Ocean Drive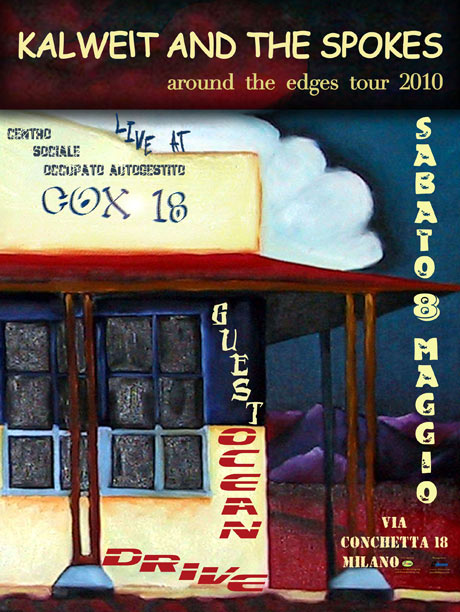 KALWEIT AND THE SPOKES e' il nuovo progetto di Georgeanne Kalweit, Leziero Rosig
no e Giovanni Calella, tre musicisti noti nella scena italica (e non solo, dato
che Georgeanne e' di Minneapolis anche se vive in Italia da tempo) per avere col
laborato con artisti del calibro di Vinicio Capossela, La Crus, DeltaV, Dining R
ooms, Calibro 35, Amour Fou e molti altri.

Freschi di un bel disco d'esordio appena pubblicato dalla Irma Records ("Around
the Edges"), propongono un'affascinante mix di indie Rock, dark blues alla PJ Ha
rvey, sfumature new folk, il tutto arrangiato in modo moderno ed elegante, con l
a splendida e profonda voce della Kalweit che rende davvero speciale questa band.

Apriranno OCEAN DRIVE da Rovigo, giovane ed energico quintetto con un
album di fresca pubblicazione.