SABATO 12 MAGGIO 2012
dalle 23.00
Cox18 presenta:
Night for the Deaf
Gandhi's Gunn + Hyper Evel live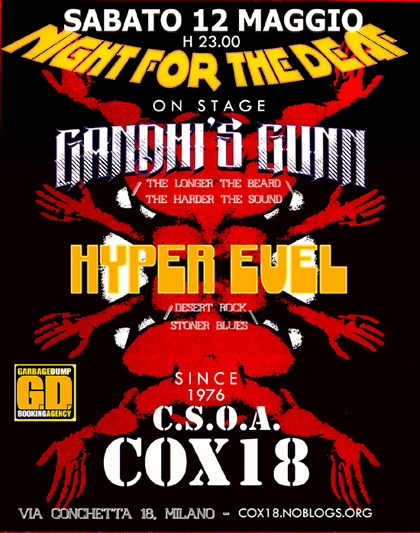 Come sempre, 2 gruppi di grande purezza espressiva alla Night for the Deaf.
GANDHI'S GUNN vengono da Genova e presentano il loro secondo album nuovo di zecca "The longer the beard, the harder the sound". Suonano un Heavy Stoner potente ed evocativo. Nel loro suono c'e' qualcosa di "battagliero" che non dispiacera' ai fans dell'heavy metal underground.
Apriranno la serata i bresciani HYPER EVEL, ottimo album d'esordio appena pubblicato, fautori di un hard rock desertico influenzato dal Blues e dalla Psichedelia.
Per i fans di Fatso Jetson, Clutch, Masters of Reality e Brant Bjork.