VENERDI' 22 MARZO 2019
ORE 23,00
ANNULLATO
Live on Stage: Not Moving LTD + Cut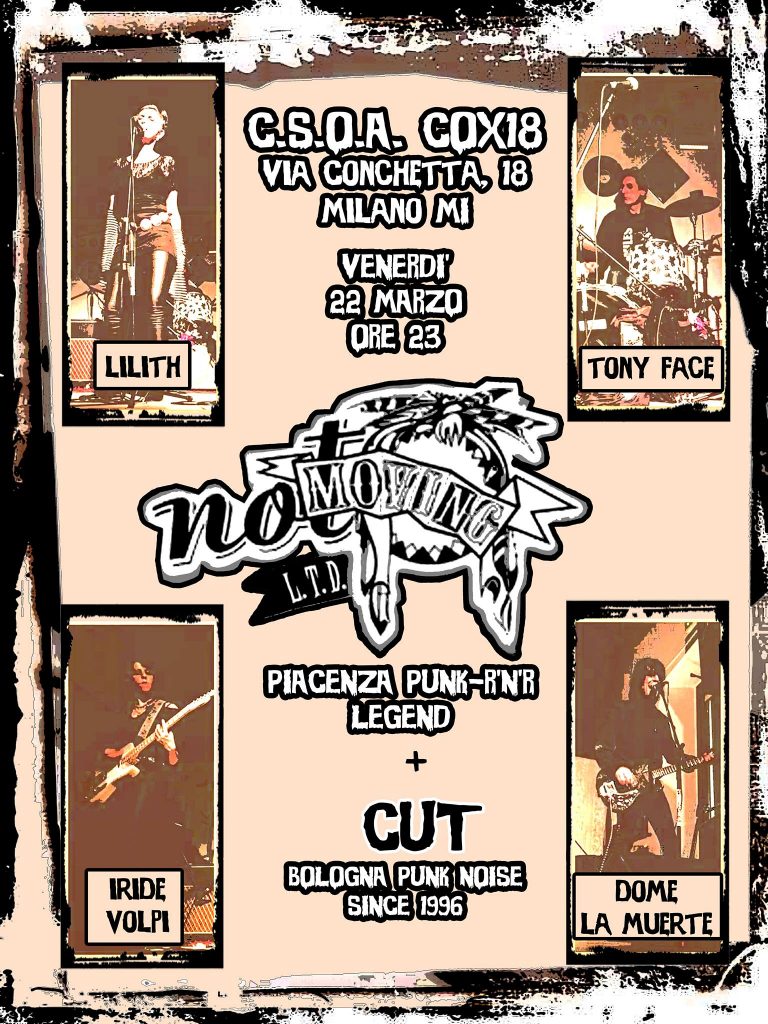 Rita Lilith Oberti, Dome La Muerte, Tony Bacciocchi hanno fatto parte negli anni 80 dei Not Moving, band rock n roll / punk che incise una serie di album, ep e 45 giri e aprì per Clash, Johnny Thunders e successivamente, nella reunion del 2005, Iggy and the Stooges.
La nuova dimensione li coglie tra brani del loro vecchio repertorio e rifacimenti di classici seminali (da Velevet Underground a Stooges, Stones e altro). Alla chitarra Iride Volpi.
I CUT sono una rock band nata nel 1996 a Bologna.
La loro attività è stata la scintilla che ha contribuito alla nascita e allo sviluppo di "GAMMA POP" una delle più
importanti etichette indipendenti italiane.
Il suono dei CUT è stato descritto in vari modi ma forse il più azzeccato è stato coniato dalla webzine UK
Pennyblack Music: "John Lee Hooker stuck in a postpunk straitjacket" ovvero "John Lee Hooker stretto nella
camicia di forza del postpunk" (http://www.pennyblackmusic.co.uk)
La loro discografia conta sei album in studio, un live in UK e un E.P. per la stessa Gamma Pop e per altre
istituzioni della scena musicale italiana come Homesleep Music, Riff Records, Go Down! Records, Area Pirata e
Dischi Bervisti.