VENERDÌ 5 APRILE 2013
ore 23.00
Cox 18 presenta:
THE BROTHER GREEN
+
I MANIACI DEI DISCHI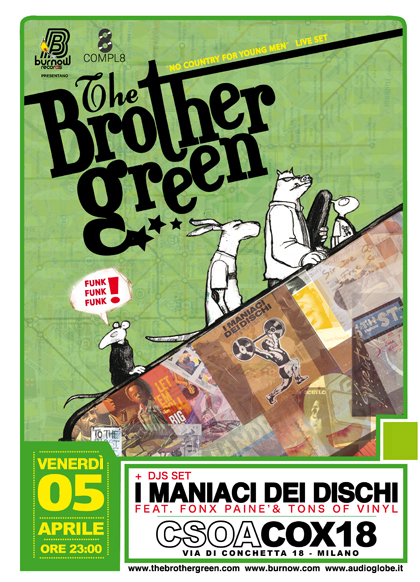 I The Brother Green sono un collettivo capitanato dal Dj e Producer Fonx, già fondatore con Painè nel 1999 de I Maniaci Dei Dischi, un dj set con 3-6 giradischi che si sovrappongono e miscelano effetti sonori, accapellas, frammenti musicali, scratch e una selezione di ritmi per il ballo (hip hop, funk, soul, jazz, drum'n'bass, house, dub, latin, reggae). Fonx durante le serate "Speaker On" al Circolo ExWide di Pisa inizia a sperimentare una nuova modalità di party, con l'interazione/improvvisazione di musicisti: da questa esperienza, e dal riscontro positivo ottenuto, effettua date in altri club toscani e decide di formare, insieme al tastierista/organista Paolo Peewee Durante, il progetto THE BROTHER GREEN. Così entrano in studio per registrare un album di brani originali, affiancati dal decisivo contributo di Roberto "Bombo" Fiorentini al Basso/Arrangiamenti/Mixaggio; da Piero Gesuè alla voce; da Tommaso Tanzini (dalla band afrobeat "Sonalastrana") alla chitarra; e dalle ospitate con: il mitico e storico blues man Mimmo Wild Mollica all'armonica in tre brani; gli scratch del dj/producer Herrera; Fabio Di Tanno al Basso ed altri musicisti toscani agli ottoni. Da queste sessions nasce l'album "No Country for young men": un disco trascinante che contamina la matrice funk con l'elettro, la disco, il soul, l'hip hop, il blues ed una spruzzata di jazz.